Background
Hirer login is provided in separate website to the main SchoolBooking application. Hirers can find the login from your Storefront (for setup go to Administration – Lettings – Storefront), or via a direct URL https://lettings.schoolbooking.com/{yoursiteID}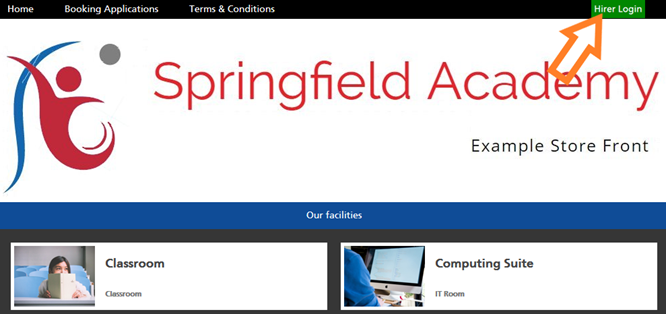 Hirers will login with their email address and password. The 'hirer email address' can be included in multiple 'hirer accounts' in the Lettings system. This is important as once a hirer email address is enabled for login, all hirer accounts associated with this email address will be available.
Hirer Login Settings
Before enabling logins for hirers you will need to update your Initial/Default Settings for Hirer Login. Go to the Lettings Dashboard and choose the Hirer Manager module. From here select 'Hirer Login'. At the next page select 'Initial/Default Settings'


Read the notes for each setting and complete as required.

Allow hirers to make online payments?
Once you have created invoices for your hirers you can allow them to make online payments via payment processor - Stripe.com
This setting will be disabled until you have setup a Stripe account and connected to SchoolBooking. Please see this article with full details
Managing hirer login
To enable hirer login, go to the Lettings Dashboard and choose the Hirer Manager module. From here select 'Hirer Login'.

You can now see a list of your hirers and associated hirer email addresses. Use the dropdown to switch between listing all contacts or hirer login enabled contacts only.
Select a hirer email address to manage login.

The next page you can enable access, decide if this hirer should see 'costings' (invoices, statements etc) and you can view/email the hirers login credentials*. If you want to preview the hirers login, click the link 'to view this contact's login pages' and a new browser window will open.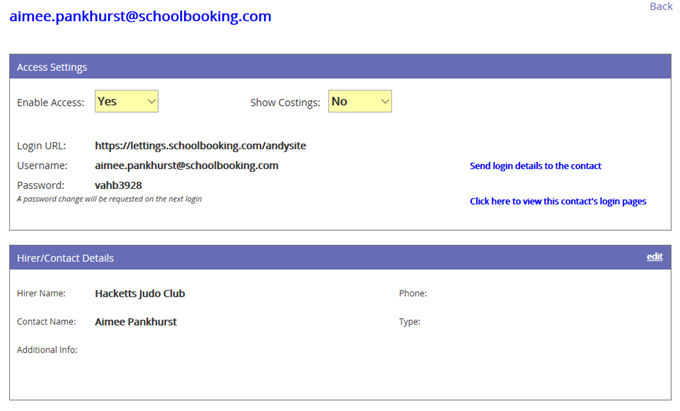 * emails to hirers will appear as from noreply@schoolbooking.com. If your hirer has not received the login credentials email, ask them to check spam/junk folders. Alternatively, we suggest you copy the credentials to your clipboard and paste into separate email message (ie. from your school email service such as Outlook or Google)
If you enable access for a hirer email address that is present in other hirer accounts, you will see a warning message and the other linked hirer accounts will be listed below.

Summary of hirer login experience
Both the Storefront link, and direct login URL will take your hirers to your unique login page. They will login with their email address and password provided.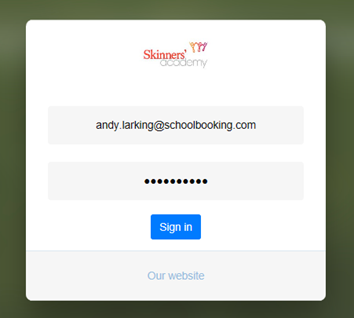 Once logged in they can view reservations, statement, invoices and payments and make online payments (if 'show costings' is enabled).
If the hirer email address is linked with other hirer accounts, your hirers will have the option to switch accounts. Your hirers can also submit new booking, general or invoice/payment enquires. The new booking enquiry feature will allow your hirers to check if a facility is available on the dates/times selected, but it is not a confirmed booking. All enquires are sent via email for your lettings team to process.

Paying invoices

From the Invoices view your hirers will have the opportunity to pay outstanding invoices in full. When your hirers select 'Make Payment they will be directed to Stripe checkout process to enter card details. Once the payment is successful the invoice will be marked as paid.