If you prefer to have our customer services team setup your Lettings system, please download and complete this spreadsheet. Then email the completed spreadsheet to customer.services@schoolbooking.com
1. Create your facilities
Go to Administration – Lettings – Facilities Manager.
If you have already setup the 'Booking System' for staff use, then you will already have items available that can be made 'Active' in Lettings. View the 'Inactive' column and then select the item(s) and change the Letting Status to 'Core Facility'.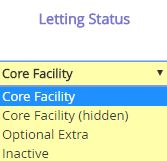 If you haven't setup the Booking System and just want to use Lettings only, you simply need to 'Create Item'. There are additional settings for each Facility (tax, email notifications, etc). See this Support Article for more details



2. Create Letting Plans
Letting Plans are required for each facility and are essentially the holders of timeslots, fees and dates settings. You will need to create at least one 'Daily Plan' and complete settings for Hourly Fee, Time Range, and Dates Assigned BEFORE you can make any bookings. Typically, most schools will have a weekday and weekend 'Daily Plans' for each facility.

Please see our Lettings Plan guide for more details



3. Add your hirers
From the Lettings Dashboard, select the 'Hirer Manager' Module. You can either create you hirers manually or if you already have a list of hirer contact details you can import them.


4. Make your first Reservation
From the Lettings Dashboard, choose ''View Facility Planner''. The green buttons will change the view, dates, categories, and hirer prices. Select your facility and times required and select 'Proceed' to start a Letting. There is a detailed guide on how to use the Facility Planner and make a reservation here.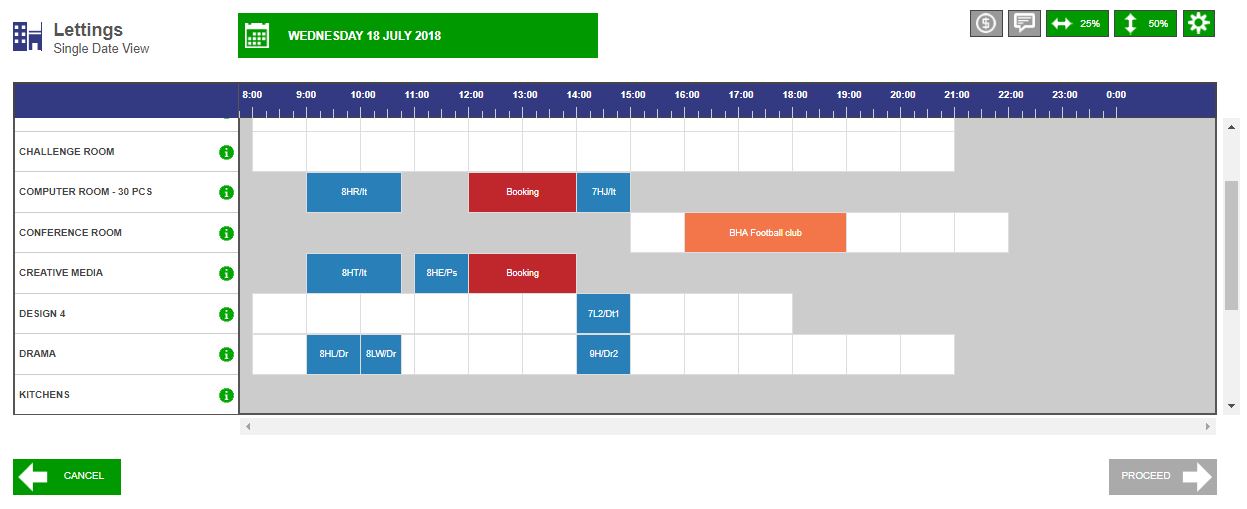 5. Invoicing, Storefront & Reports
Now you have completed a Letting you can create customisable invoices, record receipts and produce hirer statements. In addition, you have own hirer website called 'Storefront' to use and 'Reports' that help provide insights into your Lettings income and facility usage

Invoicing – Go to Lettings DashBoard and select Payments & Invoicing (See detailed guide)
Storefront – Go to Administration – Lettings – Storefront
Reports – All reports are accessible from the top navigation.
Please contact our Customer Services Team for setup help. E : customer.services@schoolbooking.com T : 03333 446433 (International +44 1424 406433)