To enable your teaching staff to make appointments for Parent Meetings your site administrator will to complete the following :

Step 1. Check existing user access.
Go to Administration – Users – User Manager. Check against the Parents Column that all teachers are set to Y. If not, use Bulk Update to adjust users access


Note : To enable access automatically for new users, go to 'Default Settings' and adjust the new user defaults for Parent Meetings access

Step 2 Initiate a new sync, then verify that the SchoolBooking Name is correctly linked to your MIS Teachers Name.
- By initiating a new sync our system will look at those users with Parent Meeting access and automatically link them to your MIS Teacher name. Go to Administration - Academic - Assembly MIS Integration and select 'Re-Process'
- Once the sync has been re-processed quickly verify the names are linked correctly to your MIS, go to Administration – Users – User Manager, and select Bulk Update, then on Teachers choose 'Go' to proceed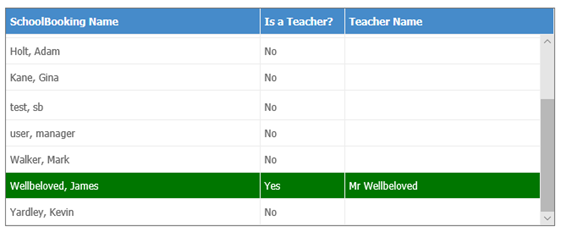 To switch between Yes/No, click on the applicable rows and Save when ready. In most cases, the applicable Teacher Name is assigned automatically (after Saving) with no further admin action being required. However, if a Teacher Name is incorrect or missing follow the link to Manual User/ Teacher allocations on the same page.