Before you can integrate your booking calendar with Outlook, you first need to 'enable' iCal integration. To do this, go to Administration - Settings - Other Settings, and select Outlook/Google iCals.
When enabled you have the option of either adding a users bookings using icals, any item (room /resource), or a facilty. To find your 'user' URL, choose 'My Profile' from within the top menu under your login name. Scroll to the end of the page to see your unique iCals URL.


(Note : Your URL is unique. Don't use this example).
Now copy this URL, open Outlook and go to view your calendars. From the top menu choose 'Open Calendar - From Internet Calendar.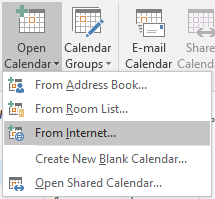 Now Paste your iCals URL and press 'OK'. This will take a few moments to sync and then add the new calendar.

When iCal is enabled you also have the option to open calendars for particular Room/Resources or Facilities. Go to 'Item Manager' for Rooms & Resource iCal URL. Go to 'Facilities Manager' for Facility iCal URLs.